Your Online Resource for FUN in the Colorado Fourteeners Region.
Step into our country, and let it sweep you off your feet.
From South Park to Buena Vista, Leadville to Salida, Colorado Springs to Durango, we have the down and dirty on how to play hard and live well in Fourteener Country.
Looking for that perfect vacation spot near Twin Lakes? Or looking for that perfect recreational adventure to go on, whether it's rafting down the Arkansas or exploring local Art Festivals?
Need lodging, advice on dining and the best places to shop, or a hand finding real estate?
Come discover that Creede was the second city in the United States to run electricity into its streets. Find out what the real South Park is like; explore the art festivals in Salida or the world famous mountain bike trails in Buena Vista.
If it goes on in the mountains, you'll find it in our pages. All the information you'll need to plan a vacation, a day trip, a history lesson or a move is laying in wait for you as surely as a stagecoach ambush was back in the day along the old road to Leadville.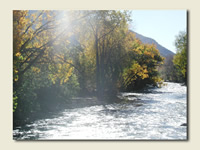 Buena Vista Chamber of Commerce
Leadville Information and Business Directory
Salida Information and Business Directory
South Park Information and Business Directory